JFS Holdings Records Highest Ever Net USD Income For FY 2022/23 
Amidst the ongoing economic difficulties in Europe, JFS Holdings Limited has achieved a remarkable feat by recording its highest-ever net USD income for the fiscal year 2022/23. Despite the recession, the company's impressive growth rate of 93% stands as a testament to its commitment to excellence and adaptability in the ever-changing business world.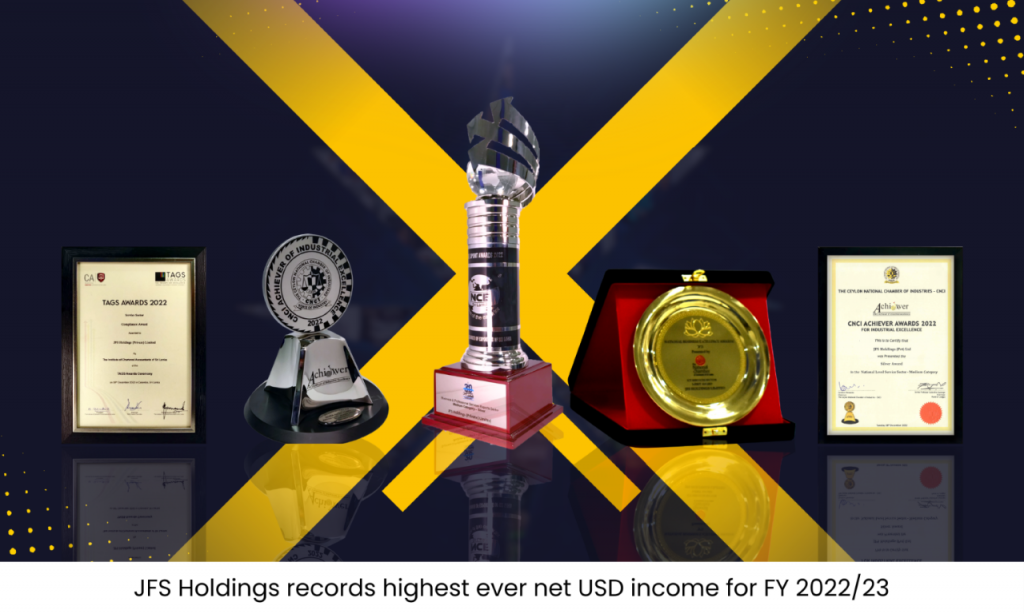 JFS was recognized at the National Export Awards last year for its contribution to economy with a total Export income which crossed 39 million LKR. With a growth of 93% over the USD income this year, total export income passes the 75 million mark, first time in the history. BPO sector of the company contributed to the economy with a net USD income amounting to 75 million whereas ICT sector contributed suppling direct services to ICT exporter amounted to 125 million LKR in the FY 2022/23.
JFS, initially established in 2012 as an HR service provider, has swiftly evolved into a diverse business entity in Sri Lanka. The company's strong presence is built on its strategic focus on four key sectors: BPO, ICT, Extreme Sports, and Agro-Food. Operating through eight distinctive brands across these sectors, JFS showcases its expertise across these fast-growing industries.
The driving force behind JFS's success is its dedicated workforce and forward-thinking leadership. Despite challenges over the past decade, the company has not only survived but thrived, experiencing exponential growth. The four consecutive awards that JFS received last year for its exceptional performance, including the Silver Award in the Medium Service category at the National Export Awards, serve as strong evidence of its excellence. During the same fiscal year, JFS was able to successfully provide ICT services through its brand; "CodeOne-X" to the European Union through a direct exporter. With a team of over 100 skilled individuals, JFS's journey highlights its resilience, innovation, and unwavering dedication to progress.
Aligned with its strategic vision to become Sri Lanka's leading conglomerate, JFS is gearing up for a capital infusion over 100 million in the near future.
Madhushan Raigamage, Chairperson of JFS, expressed immense pride in reaching this significant milestone. Expressing his thoughts, he stated; "It's really something special to see how we've managed to overcome the tough times and this achievement truly reflects our strong commitment and ability to adapt.
JFS Holdings is globally recognized for its comprehensive business process outsourcing and ICT services under the brands; "SourceOne," "JobFactory," and "CodeOneX."
"SourceOne" has gained valuable insights over the past seven years, aiding organizations in modernizing staff management, automating non-core tasks, and managing risks. The startup brand of JFS; "JobFactory" is now a prominent name in executive search and holds a license from the Sri Lanka Bureau of Foreign Employment for overseas executive transfers.
In the realm of ICT, "CodeOne-X" of JFS is a noteworthy brand. As an active member of SLASSCOM, JFS is committed to constant improvement and excellence across its pursuits. Over the past four years, "CodeOne-X" has consistently expanded, attracting new installations, forming partnerships, and exploring investment opportunities.
As a diversified company, JFS Holdings Limited has solidified its position as a pivotal player in Sri Lanka's ICT/BPO industry. Its journey from inception up to now is remarkable and is confident in its ability to overcome challenges in the future also and emerge as a leading business entity in Sri Lanka and beyond.